This year is the first since the corona pandemic where Team Rynkeby has had the opportunity to bike to Paris, which made the trip very special.
"After a two-year break with the Paris trip, we were finally allowed to bike to Paris. It was clear from the participants that it was very special, especially for those who have waited several years to have this experience," says Jørgen H.K. Jepsen. "The atmosphere in Paris, where all 62 teams from the nine countries were gathered, was truly unique. I really think it's great that so many people want to do something good for themselves while doing something good for others."
The collected amount is the second highest amount ever collected in Team Rynkeby's history. It is clear that the sponsors believe in the project and know that Team Rynkeby is making a difference for children with critical illnesses. The teams sold more than 1,600 shirt sponsorships this year, which is an apparent record compared to previous years. According to Jørgen H.K. Jepsen, the impressive collection result is highly due to the commitment from the participants and the sponsors' confidence in the project.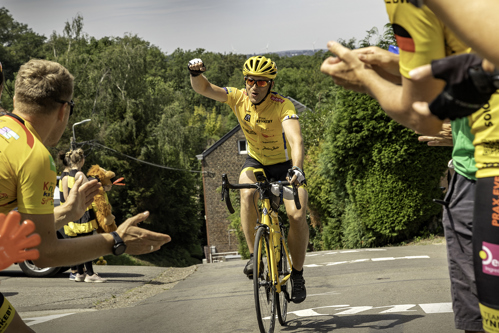 "It's really fantastic that we can hand over millions of euros to charities that support children with critical illnesses, as we know how big of a difference it makes. The amount collected corresponds to all participants, riders as well as service crew, collecting more than EURO 4,000 each, which has required a great deal of effort from all our participants," says Jørgen H. K. Jepsen.
The amount collected will now be donated to 19 organizations that Team Rynkeby Fonden collaborates with around Europe. Most of the collected amounts are spent to finance research projects for children with critical illnesses – primarily childhood cancer.
Team Rynkeby has since 2002 collected money for children with critical illnesses and has in the past 21 years been a large part of research for children with critical illnesses, with a total collection of more than 86 million euros. The new season for Team Rynkeby started on 1 September, with no less than 68 teams consisting of new -and continuing participants.